Artist Biography by
Jason Ankeny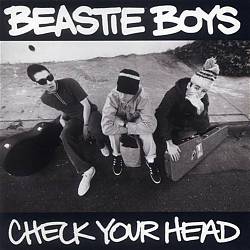 Money Mark
is the alias of
Mark Ramos-Nishita
, a keyboardist whose funky, retro-flavored riffs earned him the unofficial title of the fourth
Beastie Boy
. Born in Detroit to a Japanese-Hawaiian father and a Chicano mother,
Nishita
moved to the West Coast when he was six; some years later, he hooked up with the
Dust Brothers
production team and began overdubbing keyboards for the Delicious Vinyl label. While working as a handyman,
Nishita
accepted a job repairing
the Beastie Boys
' Silverlake, CA, home; soon, he became a pivotal member of the group's Grand Royal posse and performed on both 1992's
Check Your Head
and 1994's
Ill Communication
.
Recorded at his home studio, Money Mark's solo debut, Mark's Keyboard Repair -- a loose, infectious collection of fuzzy organ noodlings performed on vintage equipment -- appeared in 1995 as a set of three 10" records issued on the Los Angeles-based label Love Kit. Although the small pressing sold out almost instantly, the first record in the series found its way to Britain and the offices of Mo'Wax founder James Lavelle, who quickly flew to L.A. to meet with Nishita; a deal was struck and the instrumental Mark's Keyboard Repair was reissued in late 1995. Mark's next release was the more pop-oriented Push the Button in 1998, but he followed with another instrumental album, Change Is Coming, in 2001. Fast forward to 2007, when a shared association with none other than Jack Johnson -- via Beasties producer Mario Caldato, Jr. -- led the way to a contract with Johnson's Brushfire label and a new Money Mark pop album, Brand New by Tomorrow.
Tracklist
| | | |
| --- | --- | --- |
| 1 | Pretty Pain | 3:10 |
| 2 | No Fighting | 1:28 |
| 3 | Ba Ba Ba Boom | 1:34 |
| 4 | Have Clav Will Travel | 1:22 |
| 5 | Don't Miss The Boat | 2:31 |
| 6 | Sunday Gardena Blvd. | 2:31 |
| 7 | Insects Are All Around Us | 2:21 |
| 8 | Scenes From.... | 1:57 |
| 9 | Poets Walk | 0:59 |
| 10 | Spooky | 1:57 |
| 11 | Cry | 2:20 |
| 12 | Ease | 2:57 |
| 13 | Got My Hand In Your Head | 1:39 |
| 14 | That's For Sure | 0:36 |
| 15 | Sixth Synth | 1:16 |
| 16 | Invitation | 2:06 |
| 17 | Time Lapse Life | 1:44 |
| 18 | Seven, Seven, Seven | 2:25 |
| 19 | Sometimes You Gotta Make It Alone | 2:31 |
| 20 | Pinto's New Car | 2:25 |
| 21 | Revolt Of The Octopi | 2:35 |
| 22 | Never Stop | 2:24 |
| 23 | Slow Flames | 2:21 |
| 24 | Hard Ass | 2:26 |
| 25 | From The Beginning To The End | 1:56 |
| 26 | Functions | 2:08 |
| 27 | World Lesson Pt. 2 | 2:35 |
| 28 | Inner Laugh | 2:16 |
| 29 | The Grade | 4:39 |
| 30 | Mark's Keyboard Repair | 0:57 |