Back in the early 1990's, Buzzoven stopped in to the record store where I worked. Smelliest band ever.
Artist Biography by
William York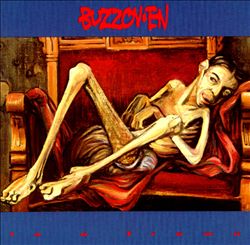 Buzzov-en has been cranking out drug-fueled, misanthropic sludge punk in various incarnations since their inception in 1990. Known almost as much for their out-of-control and sometimes violent live shows as they are for their music, the band carries on a tradition shared by such fellow Southern troublemakers as Eyehategod and
Antiseen
. They have endured several lineup changes and apparent breakups over the years, with the only permanent member being singer/guitarist Kirk Fisher (alternately credited on albums as "Reverend Dirtkicker" or simply "
Kirk
.") With drummer Ashley Williamson (aka
Ash
and
Ash Lee
) and bassist
Brian Hill
in tow, they recorded their first EP (Wound) and full-length (
To a Frown
) on the Allied label in the early to mid-'90s. Eventually signing with the more prominent Roadrunner Records, the band unleashed their second full-length,
Sore
, in 1994. (By this time, they had added a second guitarist in Buddy Apostolis, aka
Buddy
and
Little Buddy
.) Yet instead of garnering the type of recognition as some of their labelmates (see
Sepultura
or
Fear Factory
, for example), Buzzov-en remained very much a cult band, continuing to tour heavily (including a stint opening for
GWAR
) but ultimately disintegrating before they could issue a Roadrunner follow-up. By the time of their next full-length, 1998's
At a Loss
,
Fisher
was the only original member left, with bassist/vocalist Dave "Dixie" Collins (later of Weedeater) among the new recruits. Assumed to have broken up once more,
Fisher
and company nonetheless returned yet again in 2001 with the long-delayed Revelation: Sick Again, this time on the Hydrahead label.
Tracklist
1

Behaved

2

Done

3

Hollow

4

Aching Improv #13

5

I Never

6

Proven Wrong

7

Blinded

8

Scrunge