Artist Biography by

Jason Ankeny
The Golden Palominos were not a group per se, but rather the revolving-door project of drummer, programmer, and bandleader Anton Fier. Born June 20, 1956, in Cleveland, Ohio, Fier first made his mark as the drummer on the Feelies' seminal 1980 debut Crazy Rhythms. After leaving the group, he joined the punk-jazz unit the Lounge Lizards before returning home to Cleveland, where he was recruited by the legendary new wave band Pere Ubu for the album Song of the Bailing Man. After exiting Ubu, Fier again relocated to downtown New York City, where he founded the first Golden Palominos lineup in 1981. In its primary live incarnation, the band was an avant-funk supergroup comprised of Fier and another drummer, David Moss, saxophonist John Zorn, guitarist Arto Lindsay, and a pair of bassists, Bill Laswell and Jamaaladeen Tacuma; on their self-titled 1983 debut, the Palominos were augmented by Fred Frith, Nicky Skopelitis, and Mark Miller.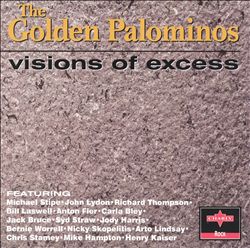 Over the next few years, Fier moved away from the first record's experimental noise into far more traditional pop territory; simultaneously, he largely jettisoned the first album's lineup in favor of an ever-changing collection of punk legends, post-punk superstars, up-and-comers, and N.Y.C.-scene vets. After enlisting ex-Raybeat Jody Harris to help him co-write much of the music, Fier recruited vocalists ranging from R.E.M.'s Michael Stipe and Cream's Jack Bruce to PIL's John Lydon and newcomer Syd Straw. Rounded out by musicians like former dB Chris Stamey, guitar greats Richard Thompson and Henry Kaiser, and P-Funk alumni Bernie Worrell and Mike Hampton, the revamped Golden Palominos reached an early peak with 1985's Visons of Excess, a diverse yet cogent collection highlighted by a cover of Moby Grape's "Omaha" and the original "Boy (Go)."
With 1986's Blast of Silence, the group flirted with elements of country and folk; while Stipe and Lydon were noticeably absent, many of the other players featured on Visions of Excess remained, along with new additions including guitarist T-Bone Burnett, Numbers Band singer Robert Kidney, artist/producer Don Dixon, singer/songwriter Peter Blegvad, Matthew Sweet, and Flying Burrito Brothers alum Sneaky Pete Kleinow. On 1989's moody A Dead Horse, Fier again shifted gears, settling on a constant lineup of Laswell, Skopelitis, Kidney, and ex-Information Society vocalist Amanda Kramer along with a handful of guests, including former Rolling Stone Mick Taylor.
1991's Drunk with Passion returned to the all-star format; Stipe and Thompson again rejoined the fold, welcoming newcomers like Sugar's Bob Mould. This Is How It Feels, a sophisticated concept album inspired by the Graham Greene novel The End of the Road followed in 1993; along with core members like Laswell, Skopelitis, Worrell, and Kramer, the record spotlighted vocalists Lori Carson and Lydia Kavanaugh, as well as bass great Bootsy Collins. 1994's Pure featured many of the same principal players, while 1996's Dead Inside, essentially from a trio comprised of Fier, ex-Psychedelic Furs guitarist Knox Chandler, and vocalist/lyricist Nicole Blackman, explored electronic and ambient soundscapes. Dead Inside would be the final album by the Golden Palominos with various compilations being the only additions to the discography.
Tracklist
| | | |
| --- | --- | --- |
| 1 | Alive And Living Now | 5:38 |
| 2 | The Haunting | 5:30 |
| 3 | When The Kingdom Calls | 6:26 |
| 4 | A Sigh | 8:36 |
| 5 | Thunder Cries | 4:22 |
| 6 | Hands Of Heaven | 5:22 |
| 7 | Dying From The Inside Out | 8:18 |
| 8 | Begin To Return | 6:12 |