Artist Biography by

Tim Sendra
The West Coast quartet Wire Train came of age in the early '80s, blending atmospheric psychedelic production with jangling new wave songcraft on their 1983 debut, In a Chamber. It was the start of a career that saw the band go through lineup changes, label scuffles, and a shifting musical approach that went from sophisticated pop on 1985's Between Two Words to folky classic rock on a self-titled 1990 album to danceable alternative rock on 1992's No Soul No Strain.
When the band got together in early 1983, San Francisco State University students Kevin Hunter and Kurt Herr didn't have much experience playing in bands or even making music. In fact, while Herr had basic guitar skills, Hunter had none. They spent six months working on their guitar playing and songwriting before looking for a rhythm section. After a few attempts that went nowhere, they found Swedish bassist Anders Rundblad and Argentinian drummer Federico Gil-Sola, then began playing shows around the city. At this point, they were using the name the Renegades when they cut a demo that found its way into the hands of a local DJ named Howie Klein, who was in the process of starting the 415 record label. He signed the band, who had changed their name to Wire Train, and before the group even released anything, the 415 label was bought by Columbia so they could get their hands on the band.
Working with producer David Kahne, the quartet came up with an impressive debut that blended atmospheric psychedelia with jangling guitar interplay and hooky songs. 1984's In a Chamber was a critical success, spawning a few college radio hits and scoring the band a slot opening for Big Country on a U.S. tour that year. Wire Train also gained at least one famous fan: U2's Bono proclaimed In a Chamber his favorite album of the year. The positive glow didn't last too long due to personnel changes. Gil-Sola left the group first and was replaced by Brian MacLeod.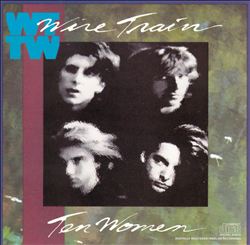 This new lineup decamped for Vienna to record their second album with producer Peter Maunu. The sessions proved fruitful -- over 30 songs were recorded -- but also tension filled. By the time the slicker-sounding Between Two Words was released in 1985, Herr had left the group. He was replaced by guitarist Jeffrey Trott, and Wire Train hit the road to support the album. This lineup recorded their next album in London during 1986, with Hunter as the main songwriter and lead vocalist. Ten Women was their most mainstream-sounding record yet, trading out psychedelia for a straightforward modern rock approach. After touring behind the album and spending time opening for the Alarm in the U.K., the band took a two-year hiatus.
When Wire Train reappeared with a self-titled album in 1990, it was with a new sound that added elements of folk and classic rock to the mix, utilizing slide guitar, fiddles, and pedal steel. This new outlook made them perfect touring partners for Bob Dylan, and they opened for the rock legend on a tour of state fairs. After contributing a song ("I Will Not Fall") to the soundtrack of the 1991 film Point Break, the band returned in 1992 with an album for MCA titled No Soul No Strain. It had a harder-edged sound that reflected some of the dance rock trends of the era, especially the single "Stone Me."
Wire Train recorded another album for MCA called Snug, but the label rejected it and the band called it quits in 1993. The group (minus Rundblad) ended up working with Sheryl Crow on her Tuesday Night Music Club album, then Trott and MacLeod embarked on busy careers as sidemen while Hunter staked out a gig as a staff songwriter at Warner Music. The band reunited twice, once in 2003 for an episode of VH1's Band Reunited that never aired and again in 2009 for three shows in their native San Francisco. Snug was finally released by the band right around the time of their second reunion.
Tracklist
1

Stone Me




2

Open Sky




3

Yeah, Yeah, Yeah




4

Crashing Back To You




5

Hey Jordan




6

Other Lover




7

How Many More Times




8

Willing It To Be




9

Higher




10

Impossible




11

When I Met You




12

17 Spooks