by request
Artist Biography by
Stewart Mason
The "band" White Town consists of Jyoti Mishra, who writes and records the music almost entirely on his own, with occasional help from other musicians. Although best -- in fact, almost entirely -- known for the fluke 1997 hit "Your Woman," White Town's mix of musical, political, and social influences makes Mishra one of the more intriguing, although frustratingly inconsistent, musicians in '90s indie pop.
Mishra was born in Rourkela, India, on July 30, 1966; his family emigrated to England when he was three years old. The name White Town was inspired by his experiences growing up as an Indian in a small English village. Mishra began playing the piano at age 12, and by his mid-teens, he was playing keyboards in a local band. After leaving that group, he formed a one-man synth band. Inspired by the Wedding Present and the general resurgence of guitar-based pop music in the mid-'80s, Mishra taught himself guitar and formed the first edition of White Town in early 1989. Originally, it was a four-person indie band in the classic post-C86 style, and played gigs supporting bands like the Sea Urchins and the pre-dance Primal Scream. The group released their first EP, White Town (featuring an eponymous song), on Mishra's own Satya Records in 1990. The 7" EP and a flexidisc that came out about the same time attracted the attention of Parasol Records, a northern-Illinois-based indie that was just starting out. A White Town single, "All She Said," was the label's fourth release. The rest of Mishra's band left around this time, and the next White Town release, the EP Alain Delon, was a solo recording. All future White Town records would feature only Mishra, playing nearly all the instruments with only occasional outside help.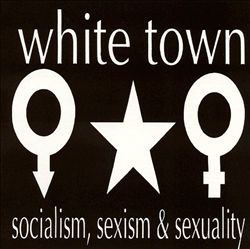 Two more EPs followed in 1992, Fairweather Friend and Bewitched, before Mishra finally released White Town's first full-length album in 1994; the title Socialism, Sexism and Sexuality neatly encapsulated the sometimes strident lyrical concerns of the songs therein. After the release of the album, Mishra grew tired of the limitations of the indie-guitar format and started working again with synthesizers and samplers. Two years' worth of experiments linking samples and guitars were released, in 1996, as the EP Abort, Retry, Fail? One of that EP's songs was "Your Woman," a song inspired in part by Mishra's teenage infatuation with a lesbian friend, based around a nagging trumpet sample from Lew Stone's 1932 jazz hit "My Woman." This song got EMI interested enough to sign White Town to their Chrysalis label, which released the full-length Women in Technology in 1997. Though the re-released "Your Woman" was a hit in both the U.S. and the U.K., interest in follow-up singles was nil, and Mishra happily went back to Parasol, where he released the Another Lover EP in 1998. The third White Town album, Peek and Poke, received mixed reviews upon its 2000 release.
Tracklist
| | | |
| --- | --- | --- |
| 1 | Heather's Party | 2:25 |
| 2 | All Summer In A Day | 3:01 |
| 3 | An Idior Sings | 2:10 |
| 4 | Why I Hate Christmas | 3:00 |
| 5 | Turn Away | 5:29 |
| 6 | My Baby Will Love Me | 4:05 |
| 7 | Insincere | 3:24 |
| 8 | That's Just So | 6:05 |
| 9 | Fairweather Friend | 3:10 |
| 10 | Waiting | 2:30 |
| 11 | Ian | 2:00 |
| 12 | The Girl That I See | 4:11 |
| 13 | If I Had A Gun | 2:30 |
| 14 | Back On The Shelf | 3:30 |
| 15 | Lie, Lie, Lie | 3:35 |
| 16 | Bewitched | 2:43 |
| 17 | Fucked Again | 2:30 |
| 18 | Save The Earth (But Don't Save Me) | 3:12 |
| 19 | Deep Within | 3:40 |
| 20 | Then I'll Be Sane | 4:45 |